กก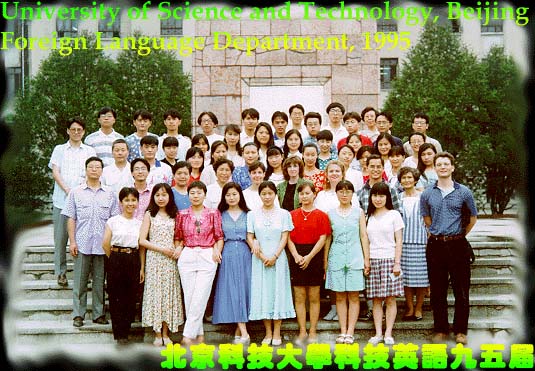 Photo of our Alma Mater and Classmates in Foreign Language Department, University of Science and Technology, Beijing.
Hi, friends from FLD, USTB! Any news or notice to share with other old friends or any suggestion? Leave your message and address at the Grand Millenium Search News Center. Internet could make us closer. Why not take most out of it? Why not figure out something interesting for us? Please go:
Grand Millenium Search News Center
First the Contact List Version Beta-1:
Name

E-mail

Location

Robert Xu CHEN
bjchenxu@126.com
Beijing, China
Carl Haibo XIE
xiehb@ustb.edu.cn
Beijing, China
Susan Yanjing SHI
SUSAN.SHI@roche.com
Shanghai, China
Kathy Qian LI
qianli11@yahoo.com
Colorado, USA
Cindy Yuan ZHANG
cindyzh@263.net
Beijing, China
Daniel Zhengjiang YU
daniel.yu@usa.net
Bergen, Norway
Tom Liang DING
tomding@hotmail.com
Sydney, Australia
Albert Xiaoyu YOUNG
albert@public.szonline.net
Shenzhen, China
Ping YAO
yaoping@yahoo.com
Beijing, China
Jianling DUAN
duanjl@yahoo.com
Germany
Roger Xuelai SHI
rogershi@btamail.net.cn
Beijing, China
Todd Yehua WANG
mhs56@hotmail.com
Jiuquan, China
Richard Yuhui CAI
xincai@263.net
Beijing, China
Michel Wenbin KONG
arecute@ihw.com.cn
Beijing, China
Bill Yujian LI
bill@public.qd.sd.cn
Qingdao, China
Anney Bing SHI
SHIshianney@bnmgen01be.ntc.nokia.com
Beijing, China
Shelly Hui DU
duhui@rocketmail.com
Shanghai, China
Rena Qiujing REN
renqiujing@yahoo.com
Beijing, China
Carol Jingyuan WANG
caroljywang@sohu.com
Beijing, China
Gang SONG
gbjnet@blog.sina.com
Beijing, China
Teachers:
Yousheng ZHANG
yszhang@public.fhnet.cn.net
Beijing, China
Yujie WEI
weiyujie@public.fhnet.cn.net
USA
Publishing of Ver. Beta-1. I don't have a full accurate list of e-mail addresses of our classmates. I missed many here and there many be some errors. If you find any, please help me to debug :)
Welcome to breif your news at the
Grand Millenium Search News Center
All Wanted! Grand Millenium Search for Classmates from Foreign Languange Department 91, USTB!
More about college life picture>>